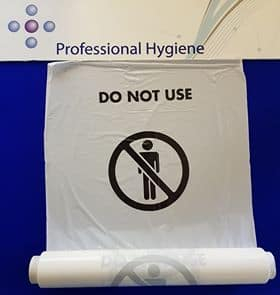 ISOLATION WRAP "DO NOT USE" 100M ROLL SELF CLINGING WRAP
Stock Code: ISOWRAP
16 In Stock for despatch
White stretch wrap 500mm wide, 100m long and 23mu thick.
Black print "DO NOT USE" repeated along the length.
Can be used for more than just urinals and WCs, can be used on seats, phone booths etc. Message is suitable for social distancing and beyond.
Enough to cover at least 100 urinals. Simply unroll and stretch across the urinal.
The thin, white polyethylene material naturally sticks to the urinal bowl sides neatly and quickly.
No more gaffer tape leaving sticky residue on the urinals, tiles, panels eliminating damage to bowls and paintwork.
No detailed specifications are available for this product.
There are no downloads for this product.