These "aprons" offer a full 360 degree protection. They are based on a vest bag design so the shoulder straps lean out slightly so for someone with a smaller frame they will probably need to be held together by some method.

They are thicker that the normal aprons we have been used to but can still be ripped off after use.

We have had comments about them from buyers that say they are not fit for purpose.... they are a plastic covering to stop unwanted contact and protect from fluids getting on to work wear and from being passed from a person or surface and thats what they do.

The "cost in use" works out to be one pence per apron so while no money has been earnt for many weeks and getting back to work safely is the priority we feel they are great value for money.

Some of our customers have told us that they "tuck" some of the excess material in to their waist band at the back or even use a bulidog type clip to gather the extra material.

Whilst not perfect we normally have 2 suppliers for "front facing" aprons but both are saying that the short supply, mainly being sent to the NHS frontline, means that they are not expecting stock until Aug/ Sept.
No detailed specifications are available for this product.
There are no downloads for this product.
Related Suggestions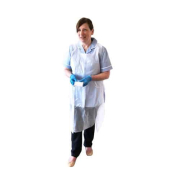 View Product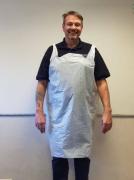 £5.79
(exc VAT)
per 100
Promotional Price - Save £0.21

(Usually £6.00)
View Product