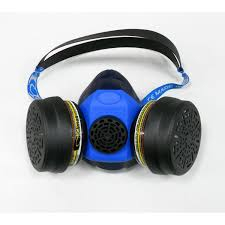 REUSABLE RESPIRITORY HALF FACE MASK WITH P3 FILTERS (FFP3)
Stock Code: CLIMAX757S
3 In Stock for despatch
Climax 757 Half Face Reusable Respiratory Masks comes with P3 Filters Masks made of silicone. The filters are connected to the mask using a bayonet system. Adjustable harness and neck strap.
It has a very low resistance to breathing when incorporating two filters.
Compatible with CLIMAX 757-N filters for gases, vapours or particles.
The 757-S half mask has been designed to provide maximum protection against gases, vapours, and viruses that sit on particles.
Filter connection: Bayonet
Filters: 757-N
Material: silicone
Nominal Protection Factor (FP): 50
Weight: 159 gr
Standard: EN 140: 1998
Main body of the half mask: Made of blue natural silicone.
The design and the material used allow it to adjust to the face in an airtight manner, preventing air from leaking into the interior through the face/mask join. the exhaling valve.
Exhaling valves: of a valve-holder and a membrane, which makes it easier for exhaled air to escape.
No detailed specifications are available for this product.
There are no downloads for this product.